There are a number of interesting facts and comments on the Victorian factsheet on homeschooling which was released on 13 February 2018.
The Victorian Government Makes Poor Assumptions
The article attributes the 19% growth in homeschooling in 2017  to the growth in the school population, (which was only 2%) as well as stating it was "likely" the new regulations which were introduced for homeschooling resulted in increased numbers.  However the new regulations are far more onerous than the ones that previously applied.
New homeschooling families are now required to submit a proposed education plan to the government which needs to be approved before homeschooling can commence.   Furthermore families may be audited to see whether "regular and efficient instruction has been provided".
It is difficult to see how these new regulations would result in the boom in homeschooling numbers. The Victorian government has made the registration process more difficult to home educate despite opposition from homeschooling support groups such as Home Education Network.  If anything these new regulations would deter new families starting home education.
It is more likely that the large growth in home education has been due in part to the introduction of the highly contentious Safe Schools Program which was developed by avowed Marxist Roz Ward.
In the Australian newspaper 23 May 2016 it was reported:
"Ms Ward has previously ­conceded that Safe Schools was not an anti-bullying program, but rather a means to promote sexual and gender diversity. She has advised school princip­als that they could dismiss parental concerns about the program with a "tough luck".
And despite having no education qualifications, she has taught elements of the program, designed for the Years 7 and 8 curriculums, to Year 3 children."
We know that many Victorian families chose to homeschool in 2017, because they were unhappy with this program which was introduced gradually introduced into Victorian public schools in 2010 but became widespread from 2016.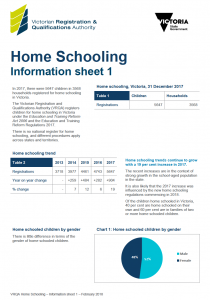 40% of Children are Doing Homeschooling Without a Sibling Joining Them   
One interesting statistic to come out of the report is that 40% of families are now doing homeschooling with only one child.  Many families have other children either in school or not of school age.   This is consistent with our experience that many choose to homeschool the child who has been having difficulties in school while leaving other children at school.
There are now many homeschool support organisations and Facebook groups advertising group activities which gives these parents confidence that they can connect with other homeschooling parents and students during the day.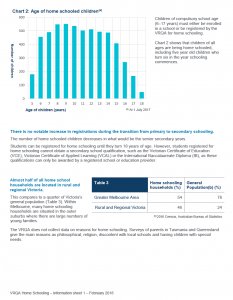 Regional Victoria has a Much Higher Proportion of Homeschoolers  
According to the report 46% of homeschooled students were from rural or regional areas whilst they only make up 24% of the school population.  This means that a child is nearly three times as likely to be homeschooled  in a country town or rural region than those homeschooled in Greater Metropolitan Melbourne.
No reason were given in the report but it is generally recognised that those who live outside the main cities tend to be more conservative and  more likely to homeschool for philosophical or religious reasons.
By Stuart Chapman B Eng; BA; Grad Dip Ed
Stuart has been an engineer, pastor, soldier, company CEO, school principal, founder and director of a number of homeschooling organisations and father of five adult children who were homeschooled for 18 years. He is also an international speaker on the subject of homeschooling and is available to speak to media or at homeschooling conferences.