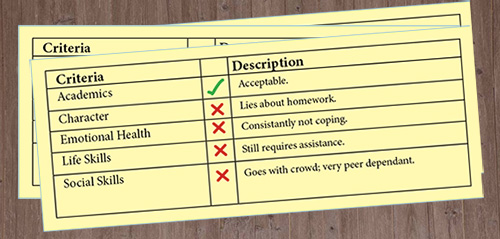 Schools spend lots of time measuring academics and attendance rates of students, but spend little, if any, in measuring such things as character development, social skills and emotional health.
It is not surprising that schools do not want to measure how well they are doing in these other areas because independent research shows that many students are struggling and engaging in dangerous behavior.
A report in the Sydney Morning Herald summarises the research findings from Resilient Youth Australia.
An alarming snapshot of the mental health of high school students has found one in three girls and a quarter of boys are depressed, with many turning to violence, alcohol and unwanted sex to cope with problems. 
The study of almost 4500 year 7 to 12 students, also revealed that 34 per cent of girls and 30 per cent of boys felt constantly under strain and unable to overcome difficulties. 
More than half had low levels of resilience and of those, 43 per cent felt violence was an appropriate way to solve relationship issues. 
A third were drinking at dangerous levels, and one in four lacked the confidence to say no to unwanted sexual experiences, while 16 per cent feel it necessary to carry a weapon. 
The statistics should cause alarm for all Australians. While most recognise that schools are not entirely to blame for these figures, they must accept some responsibility.
The Whole Person
The Melbourne Declaration on Educational Goals for Young Australians states:
Schools play a vital role in promoting the intellectual, physical, social, emotional, moral, spiritual and aesthetic development and wellbeing of young Australians. 
This statement was supposed to help schools keep a holistic approach in meeting the needs of individual students.
Yet the research indicates that many children are not finishing school in a good place.
What is the point of finishing school with good grades if the child is severely depressed and is involved in binge drinking?   Why does academics always come first?
Shenton College in Perth's exclusive western suburbs proudly boasts on their website that it is ranked as Australia's Top Public School.   It is however, a concern that in their 2010-2013 Business Plan it states:
Highly effective schools see learning as the central purpose of the school, taking precedence over everything else. 
If there was any doubt about this statement, the relevant KPI's were all related to the academic achievements of the students.
Presumably, at this school, good marks are a higher priority than the physical and mental health of the students; and tertiary ranking is more important than social and life skills or even ethical behavior.
What gets measured gets done
One major reason that schools promote academics over all else is that what get measured gets done and what does not get measured does not get done. What is true in business and government is true in schools.
If schools are not really measuring anything other than academics and attendance, how will they know what is really going on in the lives of their students?
If schools do not report on other areas such as emotional health and social skills, what incentive will there be to improve?
Another reason schools do not measure these things is that academics is easy to measure while areas such as character and life skills are much harder to evaluate.
However, just because something is hard to measure, it does not mean we should not try.
Many (if not all) schools claim that they are providing an outstanding education to their students and that their graduates are well placed to face life after school.
Parents have a legitimate question to ask of all schools, "How do you really know if this is true?"   "Prove it."