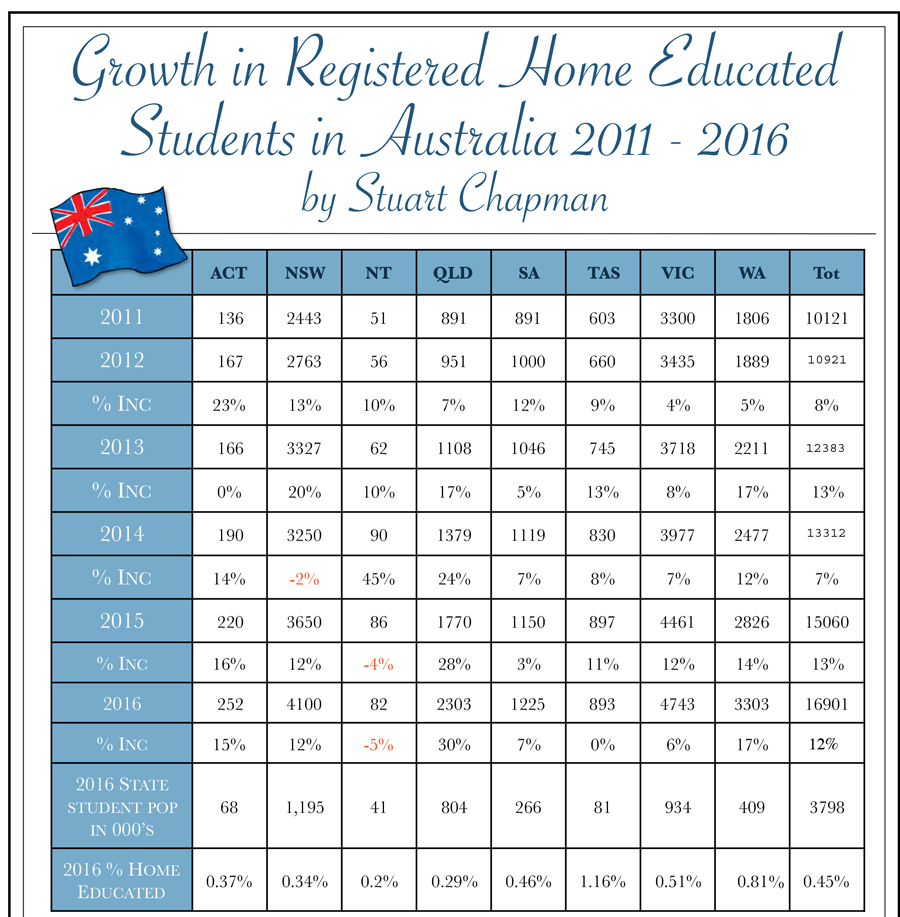 VIEW / Download Statistics as a PDF
Notes:
1. Queensland has experienced spectacular growth in the number of students registered for home education with a total growth of 258% over the five-year period 2011-2016. This may be due to an increase in the number of families willing to register their children who were previously unregistered. It has been estimated that up to 80% of home educating families in Queensland were unregistered in the past. The number of families who were "flying under the radar" may be dropping as home education is becoming more mainstream and accepted as an alternative form of education by the general community.
2. The Australian Capital Territory has experienced a rapid growth of 85% over a five-year period from 136 students in 2011 to 252 students in 2016. The figures are taken from census data in February each year. Note: The 2015 figure is an estimate only, as home schooling data was not collected in that year.
3. New South Wales has experienced solid growth (24%) in the years 2014-2016 after a slight dip in 2013-2014. The dip may have been a result of unpopular regulations, which were introduced at that time. Since then, although NSW continues to have the worst laws and regulations regarding home education, department officials seem to be exhibiting some flexibility and only a very small percentage (0.3%) of formal applications are failing to meet the assessment guidelines. This may have contributed to the strong growth in home school registrations in NSW over the last two years.
4. Victoria continues to be the state with the largest number of students registered for home education in Australia with 4743 registered in 2016. Numbers have grown by an impressive 18% over the two-year period 2014-2016. Introduction of the Safe Schools program by the Victorian government which teaches gender fluidity and Marxist ideology has been a factor in a number of families choosing to home school for the first time. New unpopular home education regulations were proposed in 2016 and it is unclear whether this will have a negative impact on the growth of home education in the future. Victoria also allows for partial enrolment of a home-educated student in a local government school. This may occur when a parent may choose to complement their home education program with partial school attendance. The principal of the school must agree to the partial enrolment. No figures are available on the numbers of partial
enrolments.
5. South Australia continues to show a steady growth in home education with a 10% growth over the two-year period 2014-2016. South Australia is home to Beverley Paine who has been a champion of natural learning and home education for four decades.
6. The Northern Territory has seen a slight fall in numbers in home schooling over the last two years, but numbers are still 46% higher than five years ago.
7. Tasmania continues to maintain the highest per capita rate of home schooling being the only state to have over 1% of students home educated. Tasmania is the only state that has home educators represented on a government administrative body overseeing home education,
8. Western Australia continues to have an incredibly strong growth rate in the number of students registered for home education with an 83% increase in numbers from 2011-2016. At the current rate of increase, the number of students registered for home education will exceed 1% of the student population within two years. The home schooling community in WA is well supported by HBLN and Homeschool WA.
References:
http://www.vrqa.vic.gov.au/about/Pages/infosheet.aspx
http://educationstandards.nsw.edu.au/wps/portal/nesa/regulation/home-schooling/information-package-registration (See pdf Home
schooling Data at bottom of page. )
https://det.qld.gov.au/publications/reports/statistics/schooling/schools
http://www.abs.gov.au/AUSSTATS/abs@.nsf/DetailsPage/4221.02016?OpenDocument
https://www.education.tas.gov.au/documentcentre/Documents/DoE-Annual-Report-2015-16.pdf
https://www.education.wa.edu.au/documents/2548175/2664299/Annual+Report+2015-16+-+Final+-+Corrected+-+Reduced+%281%29.pdf/15c619c0-3bbb-45fb-b49f-bfb9d95937c2
Data from SA, NT and ACT were obtained by contacting the relevant departments.